Car body and hull production
For 12 years, the enterprise SMIsmiautotrans is a developer of car bodies for all-terrain vehicles on the low-pressure tires and is putting them on the conveyor of OOO NPF TREKOL (Russian Federation). The main feature of these car bodies is the use of frameless structures based on polymer composite materials to offer a significant reduction in weight and at the same time the durability and load-bearing properties of the car body.
The enterprise has been producing the car bodies for all-terrain vehicles LITVINA (OOO LITVINA-SERVICE, Minsk) since 2013. The project of LITVINA car bodies is developed by our own design-engineering office fully from its design to serial production. The specific feature of the product is the use of composite structures based on the "sandwich panel" technology with the use of vacuum impregnation technology. The car body is supplied in a state of first completeness for the installation on the frame and for the connection to the power unit.
We have designed and manufactured the prototypes of all terrain vehicles SMI 434S10 and SMI 334S10 based on the chassis produced by SCAM company (Italy). Industrial design and projection are made by our own design-engineering bureau in accordance with UNECE rules and regulations.
The serial manufacture of hulls for air-cushion motor vessel YAMAL is developed specially for OAO CKB NEPTUN (St. Petersburg, Russian Federation).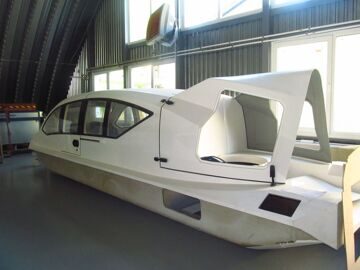 Our advantages:
we provide the complete project maintenance from design to serial production;
we use "sandwich" technology and of vacuum infusion in the manufacturing process;
the manufacturing of products for both interior and exterior design solutions;
the output in a state of the first completeness including the wiring installation, the maintenance of electrical equipment and the installation of interior;
self-designed car control systems implementation is available.