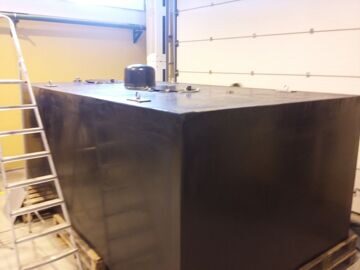 Our company produces fiberglass-plastic tanks for vehicles with capacity from 1,5 tons to 14 tons. The construction material is composite that is molded by vacuum impregnation technology based on the "sandwich panel" made of fiberglass coats with foam filler. The panels thickness is 10-40 mm and it depends on the required filling volume and thermal conductivity.
We produce the fire tanks in accordance with the requirements of the Fire Safety Regulations of the Republic of Belarus NPB 101-2005.
Types and sizes of standard options
Type

Nominal capacity, liter

main tank/foaming agent tank

Overall dimensions,

Length/Height / Width, mm

Weight, kg

PM 10Т

10000/600

3700х1450х2200

650

PM 5Т

5000/300

2500х1200х2000

450

PM 3Т

3000/180

2000х1000х1800

300
Structural adaptation of tanks to the different types of truck chassis is available; also we are ready to meet the specific requirements of the customer.