Air-cushion amphibian motor vessel Yamal-730
The hulls production and general assembling of air-cushion motor vessel YAMAL is organized on the basis of our enterprise. The project is developed by OAO CKB NEPTUN, St. Petersburg, Russian Federation (JS CDB NEPTUN, St. Petersburg).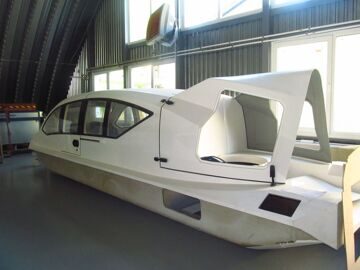 The boat is designed for year-round operation as a cruising, passenger-carrying, lifesaving, cargo-handling and patrol vessel.
Main characteristics
Parameter
Meaning
Crew, person
1
Passenger-carrying capacity, person
10
Payload, kg
800
Hover height, m
0,60
Engine power of air propeller unit, h.p.
100
Engine power of carry fan unit, h.p.
23
Fuel tank capacity, l.
100
Hull material
composite

Overall dimensions, m

Length/Height / Width:

- in the transport position

- in the working position

7800/2100/2400

7800/3100/3000
Laden mass, kg
1250
The boat can be supplied with a trailer which allows the standalone transportation of the vessel on public highways and there's no need to apply the special load-lifting equipment for its loading/ unloading.